School calendar
| | |
| --- | --- |
| Beginning of the school year | Monday 4th September 2023 |
| Autumn holidays | Thursday 26th October till Friday 27th October 2023 |
| Christmas holidays | Saturday 23rd December 2023 till Tuesday 2nd January 2024 |
| Half term holidays | Friday 2nd February 2024 |
| Spring holidays | Monday 19th February till Sunday 25th February 2024 |
| Easter holidays | Thursday 28th March 2024 |
| Summer holidays | Saturday 29th June till Sunday 1st September 2024 |
---

Healthy school
What is healthy school?
Our school has become a member of another schools supporting health. Our main objective is to show our students how to live a healthy life.
We offer many activities, so as everyone could take part in. Our school organizes a healthy week every year. This year on Monday, younger pupils started with a project called "Fruit and vegetables five times a day". On Tuesday there was a big sports event in our gym where there were 255 pupils participated in it. During the rest of the week, boys and girls learnt what is healthy and they also tried to make healthy snacks. The school dining room was offering healthy food. The whole week finished with the visit of the local zoo.
Our school offers another activities such as the Opening day, the Christmas singing, educational concerts, theatre performances, picture shows or visits of different exhibitions.
---

Sports classes
The idea of offering sports activities for our pupils was born in 1993. Our teacher Mrs. Marta Slavíková established the first sports section of mini-handball for boys and girls and named it HC Junior Zlín.
Nowadays, lots of kids who do not even attend our school participate in the sports activities. The youngest are around 5 years old.
We also established classes with extended physical training. Pupils who are in these classes are also members of the Zlín's handball sport section called HC Zlín. We do a very good job with these classes. There were many victories in different competitions like the Championship of the Czech Republic or international competitions in Slovenia and Denmark.
Every year, there are few pupils who are chosen for an Olympic selection (7th – 8th class) and some of them (former students) actually became members of the Czech sports representatives.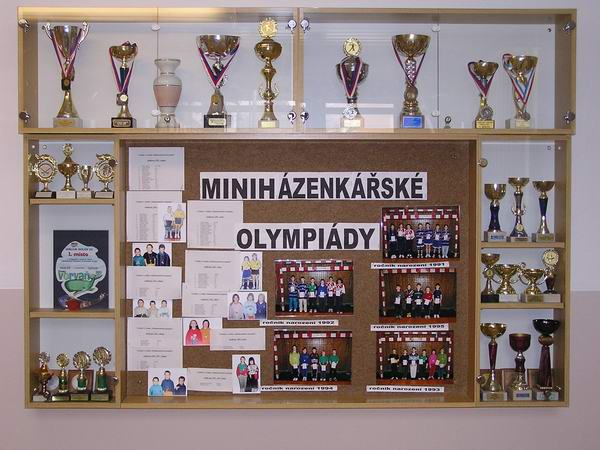 ---

"Net of associated schools UNESCO"
On the 24th May 2000, our school became a part of net of associated schools UNESCO.
Main objects of the ASPNet project are:
• education in environment protection
• education in cultural heritage saving and protection
• education in observance of human rights
You can find more at
http://www.skoly-unesco.cz/
---
| | | |
| --- | --- | --- |
| | ZLÍN | |
The first written mentioning about Zlín goes back to 1322 when it was acquired by the Queen Elisabeth Rejčka, the widow of the kingWenceslas II. Zlín in those days was feudal holdings which included several surrounding villages.
Zlín remained an insignificant provincial backwater up until the end of the 19th century. A new and more significant era was at the beginning of 1894.
The shoemaking factory, built in Zlín by the Baťa brothers, became the principal mover behind the growth of the entire city. The company built supermarkets, a cinema, houses, hospitals, schools, scientific institutions, film ateliers etc. In the hands of the famous Czech architects such as J. Kotěra, F.L.Gahura, V. Karfík, M. Lorenc Zlín has attained a rare Art Deco face which cannot be seen anywhere else in Europe.
It is not only thanks to its geographical location that today´s eighty thousand Zlín is considered as the natural metropolis of south-eastern Moravia. It has become the centre of the Zlín district. The city has been selected as the principal seat of administrative, cultural and social institutions.
Zlín is the centre of important congresses, principally in the area of medicine.